ARE WE COOL YET.
A downloadable art movement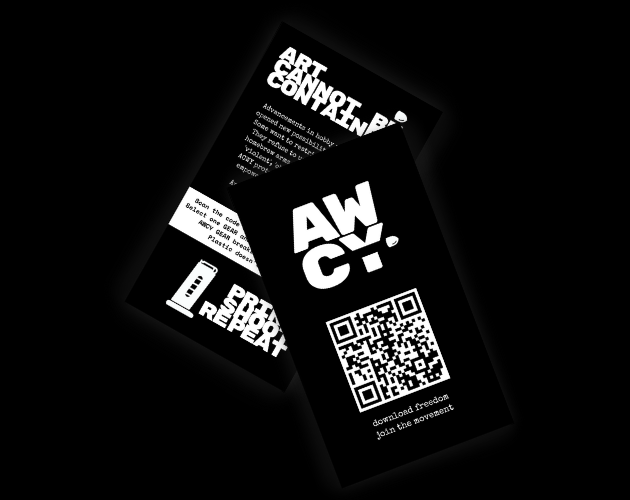 Download freedom. Join the movement.

"The AWCY is a longstanding counterculture art movement advocating for freedom of expression, hobby manufacturing and homebrew firearms. In an age where corpos hold the blueprints to every bullet and trigger, AWCY wants to give power and art back to the public.
Somehow, YOU were lucky enough to land their favor."

ARE WE COOL YET. is a CBR+PNK calling card plugin that lets you insert the AWCY art movement into your next Run. Use it as prop, reward, game mechanic, plot exposition or something else. This loose collective of gunsmiths, bootleg artists and open-source enthusiasts are at your beck and call.

If you need GEAR quick, scan the code (for a surprise) and send them your request.





AWCY is based loosely on a real-life movement with the same name. The politics, history and current developments surrounding 3D-printed firearms or 'Ghost Guns' can be complex. This plugin is not representative of the movement or its politics and does advocate for gun violence. Any resemblance to reality are purely coincidental. It's just a neat way to insert an interesting, new dynamic into your next CBR+PNK game.

Inspired by Emanoel Melo's Mx. Smith plugin.
AWCY was made for RPG LATAM JAM 2022. Thanks to M.A, GUAX for hosting.

#rpglatamjam #joinawcy #cabbageheadgames

Download
Click download now to get access to the following files:
ARE WE COOL YET.pdf
79 kB
Community Copies
Support this art movement at or above a special price point to receive something exclusive.
Community Copies
Community copies are available for free to anyone who can't afford to buy the game. If you're dealing with financial hardships; performing essential services during the pandemic; or recently donated to help a stranger in need - please, feel welcome to claim a free copy.

Every purchase of ARE WE COOL YET. donates a free community copy for others to claim.