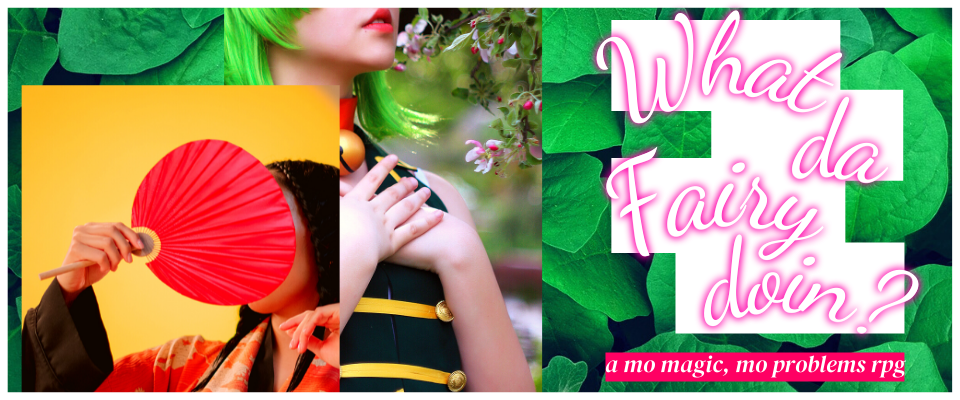 What da Fairy doin?
A downloadable fairy magic ttrpg
Get this fairy magic ttrpg and 43 more for $10.00 USD
View bundle
Humans have stopped believing in Fairies and the magic in Neverland is slowly drying up. It's so bad, some Fairies have even moved to Earth to get jobs to survive! But the longer this continues, the more your magical powers will start to disappear.

So the Big Fairy of Neverland had a great idea: "Fairies on Earth will use their remaining magic to help humans make their deepest wishes come true". That way, they would believe in Fairies again and Neverland would be safe!

What could ever go wrong?



What da Fairy doin? is a magical adventure role playing game where you play as Fairies helping people believe in them again. One player, the Big Fairy, imagines a world for the Fairies to explore and play in.

Playing What da Fairy doin? is lighthearted, chaotic and often funny. The Fairies must balance between uncontrollable Magic, strange Human rules and keeping their Human Job(s) to make a living. All this while working to make people believe in them again!





Every copy of What da Fairy doin? comes in a 15+ pages PDF featuring:
An easy-to-understand and easy-to-play ttrpg about lighthearted magical adventures and mischief.
A one-stat Magic system suitable for players of all levels. Do every action with only one number!
An entire chapter teaching new Big Fairies how to facilitate the game. Learn how to set up an adventure and run a good game in just a few minutes reading.
4 pages of random tables and generators to create interesting adventures, characters and complications with little to no fuss. From aspiring artists looking to get famous to secret vampire idols desperate for the perfect pizza, the sky's the limit with your adventures!
A simple character sheet to keep all your information in one page.
A 2-page One-Shot Playkit with all the core rules on one page for easy reading and a pregenerated adventure (Takeout Romance) for Fairies to play immediately. Can you help a lovestruck lady go on the perfect date?

Purchase
Get this fairy magic ttrpg and 43 more for $10.00 USD
View bundle
In order to download this fairy magic ttrpg you must purchase it at or above the minimum price of $5 USD. You will get access to the following files:
What da Fairy Doin v1.pdf
26 MB
WDFD Character Sheet (Color).pdf
52 kB
WDFD Character Sheet (B&W).pdf
52 kB
What da Fairy doin (One-Shot Playkit).pdf
114 kB
Exclusive content
Support this fairy magic ttrpg at or above a special price point to receive something exclusive.
One-Shot Playkits
One-shot playkits are available for free to anyone who wants to try the What da Fairy doin? for playtests and reviews. These include all the core rules in one page and a short one-shot adventure (Takeout Love) for you to play and see how the game works.

Each feedback (ratings, comments, reviews, videos) made with the One-Shot Playkit rewards you with a free copy of the full game and a community copy for the public!

Don't see any playkits/community copies available? Leave a comment, send me a message at cabbageheadache@gmail.com or tag my Twitter.

Community Copies
Community copies are available for free to anyone who can't afford to buy the game. If you're dealing with financial hardships or did a good deed; feel free to take a copy, no questions asked!
Every purchase or playtest of What da Fairy doin? donates a free community copy of the game for others to claim.